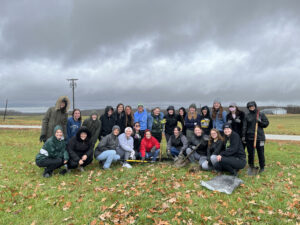 Tau Lambda Sigma, a service sorority chapter at Truman State University, decided that tree planting would be a great way to get service hours. Abby Mack, fulfilling the role of service chair at the time, had brought the idea to the group. Abby fondly remembers planting trees with her dad as a young child and watching them grow. Completing the CommuniTree application was the easy part. Getting the Forest ReLeaf trees to Kirksville, where Truman State University is located, was the challenge. However, these sorority sisters were not daunted. These problem-solving women worked together, carload by carload, to make the tree planting possible.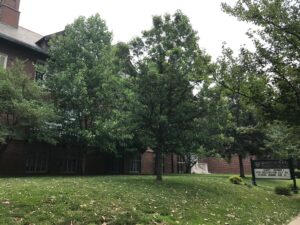 Mason Elementary School Project
"Shade is a really important thing," Karen Norman told me when I first visited Mason Elementary in early March 2022. Twelve years ago there wasn't any shade at this school and the classrooms along the south facing wall were getting blasted by the sun. Karen found out that the school could get free trees through Forest ReLeaf. There was only one voice of resistance to planting the new trees, she recalled. The PE teacher wanted space on the lawn for PE. Karen matter-of-factly informed the teacher to "play around the trees". They did, and since then the trees have been positively impacting students.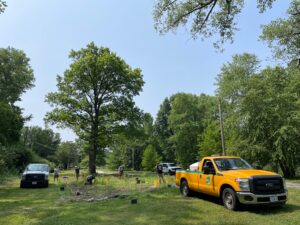 Roughly ten years ago John Milton went on his first planting expedition with Forest ReLeaf trees. It wasn't long after he began that he found himself concerned by the lack of maintenance. "If you can't water a tree after you plant it, the chances are it's going to die. Unless you're really lucky." John knew hauling buckets of water would be labor intensive and unsustainable long-term. He began to fundraise for a watering truck and "people really came through for big yellow", the aptly named large yellow watering truck that is notoriously easy to spot. "Water Truck John" ultimately ended up donating big yellow to Forest
ReLeaf.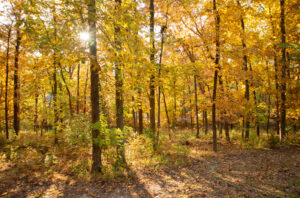 When Stephen Bybee began his work at Columbia's Kiwanis Park in 2021, the park was filled with invasive bush honeysuckle. To remediate the state of the park, Stephen held work days for volunteers to aid in the honeysuckle removal. As the removal efforts succeeded, the park gained empty space that could be retaken by the invasive species, or it could be used for the planting of adaptive and beneficial native plants. Stephen deliberately chose the latter and connected with Forest ReLeaf. The tree planting, which started as a mission to restore Kiwanis Park, has developed into educational opportunities for the community while inviting people to green spaces. What resulted, as Stephen puts it, "was not only restoring the native environment, but also restoring the community."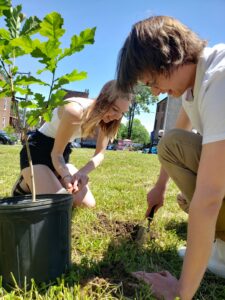 As the young non profit, Pocketparks, follows their mission of turning vacant lots into beautiful community spaces, they rely on community resources. That's where Forest ReLeaf comes in. When Samantha Smugala, President and Founder of Pocketparks, connected with Forest ReLeaf, the partnership blossomed and in only two years has allowed the planting of over fifty trees at
three Pocketparks in the City of St. Louis. "Putting something on this vacant lot, including a tree, just sends a different message into the world, like 'this lot has potential, this community has potential'." As each vacant lot turns into a Pocketpark, Samantha views trees as a symbol – a symbol of new growth and potential, in hopes that as the tree grows, the neighborhood will grow along with it.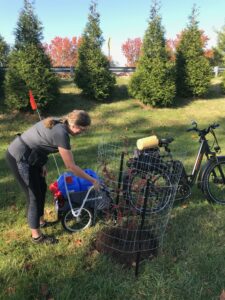 Pam Franke looked about her subdivision and admired the mature trees. Then it dawned on her that although these trees were being managed well, there weren't any young trees. Pam knew that MODOT owned the land she hoped to plant in. She met with them to review plans and to apply for a permit to plant on the property. In the beginning, she would shop sales to add a few trees here and there. When Pam found out about Forest ReLeaf in 2019, she was able to plant larger quantities of trees. She met with staff to learn about "right tree, right place". She also placed protective caging around the young trees to prevent browsing by deer and mower damage. The most important task, though, was watering. A wagon, rigged to her electric bike, was designed to carry water jugs that Pam uses weekly to keep the young trees alive.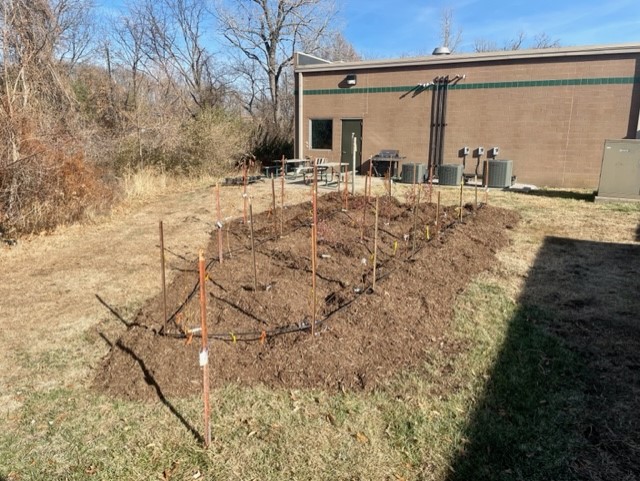 MCC Maple Woods Nursery Project
When Metropolitan Community College (MCC) in Kansas City lost many of their trees to the emerald ash borer, Matthew Knopf-Amelung, the senior groundskeeper at MCC, knew the campus needed new trees.  Rather than acquiring mature trees that would be costly, Matthew decided to create an on campus nursery.  With Forest ReLeaf's young trees, and stewardship from Matthew and his students, the Maple Woods Nursery was created.  Matthew found this to be a rewarding creation not only because of the restoration it will provide to the campus, but also because of the wisdom the nursery will share for MCC students and staff.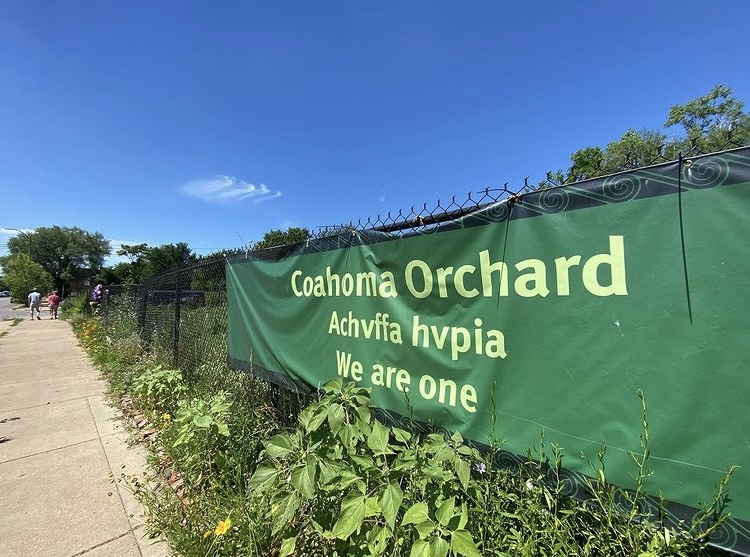 Coahoma Orchards is the name of Dail Chambers' dream come true.  It is a collection of native fruit-bearing trees that she acquired from Forest ReLeaf, and with the help of community volunteers, were planted in the Jeff Vander Lou area of North St. Louis City.  Dail has always had a natural affinity for plants, so when her concerns about air quality rose, so did her passion for planting trees.  In hopes of improving asthma rates and living conditions in Jeff Vander Lou, Dail planted the beginnings of her orchard.  Roughly 26 new paw paws, persimmons, wild plums and chokeberry now reside, providing benefits that will grow with time.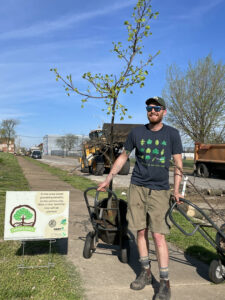 Treesilience-Americorp Collaboration
Emerald Ash Borer (EAB) is killing off the City of St. Louis' ash population faster than Forestry Division can remove the trees, creating high risk trees throughout the city's streets and parks. Forest ReLeaf has partnered with The Nature Conservancy, Forestry Division, Beyond Housing and The Davey Tree Expert Company in TreeSilience, to help remove and replace these high risk trees in city parks.
With financial assistance from The Missouri Department of Conservation's Community Forestry Cost Share program, Forest ReLeaf has brought Americorps St. Louis into the partnership. Americorp's team of skilled sawyers will be working in North City parks to remove high risk trees, and Forest ReLeaf is organizing planting efforts to restore canopy in these hard-hit areas. Thanks to these efforts, future generations will be able to enjoy the benefits of resilient, diverse tree populations in these public green spaces.